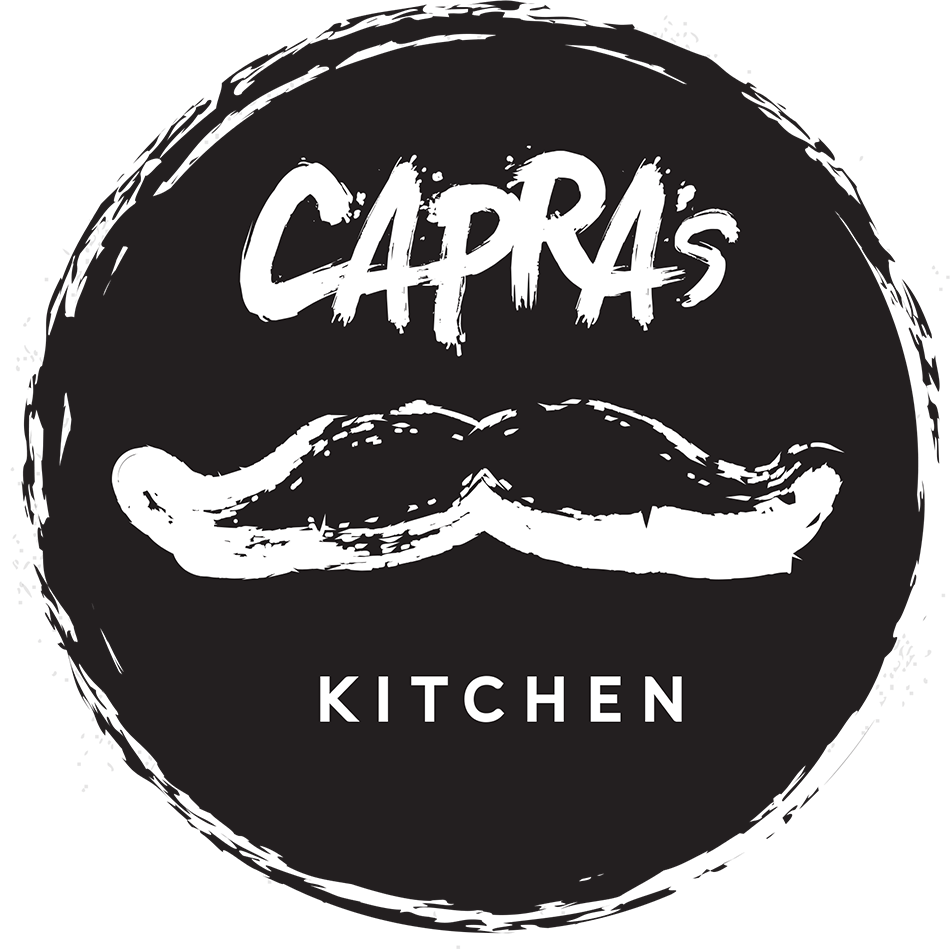 Now Open!
---
Menus
Capra's kitchen Take Out Menu
Bag Of Bread
Ciabatta, focaccia, parmigiano chips, taralli, bomba.
Mixed Olives
Marinated gourmet olives, rosemary, lemon, garlic, peperoncino
Hummus
Warm chickpeas, garlic confit, oven dried tomatoes, smoked paprika, EVOO
Bruschetta
Grilled bread, goat cheese, roasted fennel, tomato.
Zuppa del Giorno
Please ask daily
Stuffed Olives
Breaded stuffed green olives, sausage filling, Grana
Labneh
Lebanese pressed yoghurt, pistachio, honey, zaatar, EVOO
Carciofi & Funghi
Crispy artichoke & Oyster mushrooms, bomba aioli.
Grilled Calamari
Agrodolce, garlic, anchovies, capers, olives, parsley.
Burrata
Marinated eggplant & tomato, arugula, eggplant purée, basil, EVOO
Ricotta
Preserved figs, toasted pine nuts, croutons, honey, EVOO
Jamon & Melone
Spanish Pata negra d Bellota prosciutto, Cantaloupe melon, Aged Balsamic IGP
Arugula Salad
Compressed peaches, toasted walnuts, shaved Padano, balsamic reduction.
Caesar Salad
Romaine hearts, fried mortadella, anchovies, chopped egg, Grana, croutons.
Beet Salad
Roasted red, crumbled goat cheese, oranges, pickled red onions, arugula.
Tagliatelle Bolognese
Fresh tagliatelle, Pancetta, pork sausage, beef, crushed tomato, soffritto, wine.
Ravioli Caprese
Ricotta & Scamorza ravioli, tomato passata, basil, grana padano.
Orecchiette
Artisanal orecchiette pasta, rapini, broccoli, anchovies, garlic, ricotta salata, EVOO
Vongole Pasta
Fresh spaghetti, clams, wine, parsley, garlic, chilli, briciole.
Gnocchi
In house crafted potato dumplings, tomato sauce, stracciatella, fresh basil.
Wild Boar
Wild boar filled agnolotti, port reduction, sour cherry, butter.
Tartufata
Fresh tagliatelle, black truffle cream, mixed mushrooms.
Seafood Risotto
Clams, calamari, mussels, shrimp, tomato, saffron, fresh herbs.
Red Beet Risotto
Massimo famous creation, beet greens, Grana Padano chips.
Grilled Vegetables
Mixed seasonal vegetables, garlic confit, aged balsamic, EVOO
PURE VEGAN by Chef Nitesh
Ask for daily feature
Kid Cheese Pizza
Mozzarella cheese, tomato sauce.
Margherita pizza
Tomato sauce, fior di latte, basil.
Calabrese pizza
Tomato sauce, mozzarella, spicy soppressata, preserved peperoncino.
Capra pizza
Basil pesto, spinach, goat cheese, roasted red pepper, red onions.
Salsiccia pizza
Bechamel, Mozzarella, Italian sweet sausage,friarielli, peperoncini, red onions.
Funghi Pizza
Mushrooms, bechamel, fontina, caramelized onions, arugula.
Artichoke & Potato pizza
Sun dried tomato pesto, mozzarella, artichokes, potatoes, onions, black olives.
Add Prosciutto Crudo to any pizza.
Add prosciutto crudo to any pizza!
Tagliata di Manzo
10oz. Rib Eye steak, Gorgonzola butter, fried onions, caramelized carrots.
Roasted Chicken
Roasted chicken, piri piri, peppers agrodolce, crispy potato.
Salmone
Salmon filet, fregola sarda, creamy dill & wine sauce
Cheesecake
Blueberry compote, Oreo crumble.
Tiramisu
Mascarpone, savoiardi, espresso, Cocoa
500ml. Tartufata sauce
Mushroom and black truffle sauce.
750ml. Tartufata sauce
Mushroom and black truffle sauce.
750ml. Vegetable ragu (VEGAN)
Merlot Collevento
Excellent modern style Italian Merlot, light and fruity.
Chianti Casalbosco
A beautiful smooth wine with hints of cherries and plums.
Rosso di Montalcino Antinori
This baby Brunello is quite easy to drink.
Notes of dark fruits, cherry and blackberry.
Well balanced with good structure.
Appassionato
Ripasso style, medium plus body, juicy and herbaceous.
2016 Amarone Valpolicella Zardini. (375ml. Bottle)
Complex and Intense bouquet of black cherries, pepper, spices. Powerful taste, warm, very structured and persistent.
SERVED IN 375ml. BOTTLE
Vino Bianco
A light bodied blend of Chardonnay & Garganega. Crisp, clean with pear and honey.
Pinot Grigio Anticavigna
Refreshing, aromatic notes, dry.
Sauvignon Blanc Santome
Intense bouquet, good acidity with clean finish.
Rose wine
A rose wine from Terra Alta (Spain), made of Garnacha grapes.
Nice and pretty colour, playful acidity of ripe strawberries.
6 Pack Moosehead (bottles) - Giftpack
Refreshing, light bodied golden made by Moosehead Brewery.
Free Pint Glass and Sunglasses on while they last.
GP8 Still Water
Proudly Canadian still water.
GP8 Sparkling Water.
Proudly Canadian sparkling water.
* Menu items and prices are subject to change without notice and are displayed for informational purposes only.
---
Contact
Capra's Kitchen
Phone :
(905) 916-1834
Email :
fabio@capraskitchen.com
1834 Lakeshore Rd. W.
Mississauga, ON
L5J 1J7
---
Read More