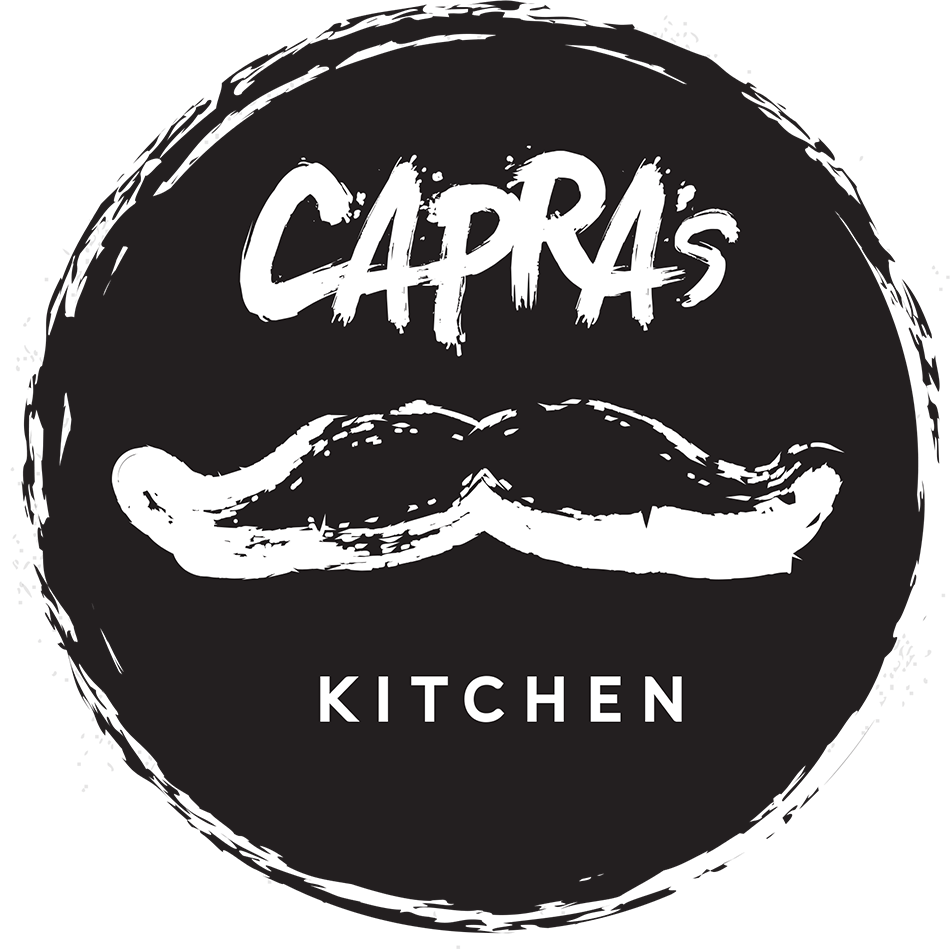 Now Open!
---
Menus
Capra's kitchen Take Out Menu
One Deal Meal
Caesar salad: Romaine Hearts, Fried Mortadella, Anchovies, Chopped Eggs, Grana, Croutons.
Choose 1 of our pasta or pizza.
Vanilla cheesecake: Blueberry compote, Oreo Crumble, Whipped Cream.
No modification or substitution allowed.
Bag Of Bread
Ciabatta, focaccia, parmigiano chips, taralli, bomba.
Mixed Olives
Marinated gourmet olives, rosemary, lemon, garlic, peperoncino
Melanzana
Eggplant purée, eggplant, roasted tomatoes, EVOO
Labneh
Lebanese pressed yoghurt, pistachio, honey, zaatar, EVOO
Hummus
Warm chickpeas, garlic confit, oven dried tomatoes, smoked paprika, EVOO
Burrata
Marinated eggplant & tomato, arugula, eggplant purée, basil, EVOO
Caesar Salad
Romaine hearts, fried mortadella, anchovies, chopped egg, Grana, croutons.
Beet Salad
Roasted red, crumbled goat cheese, oranges, pickled red onions, arugula.
Wild Boar Agnolotti
Wild boar Agnolotti, Port Demi, Brown Butter, Cherries, Spinach.
Tagliatelle Bolognese
Fresh tagliatelle, Pancetta, pork sausage, beef, crushed tomato, soffritto, wine.
Ravioli Caprese
Ricotta & Scamorza ravioli, tomato passata, basil, grana padano.
Spaghetti & Polpette
Spaghetti pasta, Classic Meatballs,Tomato Passata, Basil, Grana Padano.
Orecchiette
Artisanal orecchiette pasta, rapini, broccoli, anchovies, garlic, ricotta salata, EVOO
Tartufata
Casarecce Pasta, black truffle cream, mixed mushrooms.
Bomboloni
Tube Shaped Short Pasta, Chicken Breast, Peppers, Onions, Tomato, Cream.
Kid Pasta
Please specify under notes pasta and sauce.
Margherita pizza
Tomato sauce, fior di latte, basil.
Salsiccia pizza
Bechamel, Mozzarella, Italian sweet sausage,friarielli, peperoncini, red onions.
Capra pizza
Basil pesto, spinach, goat cheese, roasted red pepper, red onions.
Funghi Pizza
Mushrooms, bechamel, fontina, caramelized onions, arugula.
Calabrese pizza
Tomato sauce, mozzarella, spicy soppressata, preserved peperoncino.
Mortadella & Stracchino pizza
Mortadella, Stracchino cheese, Pistacchio, Honey, Red Onions, Besciamella.
Kid Cheese Pizza
Mozzarella cheese, tomato sauce.
Gluten Frienldy Pizza Crust
Add Sausage to any pizza
Italian sweet sausage
Add Prosciutto Crudo to any pizza.
Add prosciutto crudo to any pizza!
Add Soppressata to any pizza
Italian spicy salami
PURE VEGAN by Chef Nitesh
Ask for daily feature
Frittelle
Dough fritters, melted chocolate, whipped cream
Tiramisu
Mascarpone, eggs, sugar, coffee, lady finger cookie
Cheesecake
Cheesecake, blueberry compote, whipped cream
Classic Negroni
Tanquerey Gin, Campari and Dillions Sweet Vermouth
Classic Old Fashioned
Wild Turkey, Angostura Bitters and Sugar Cube
Barrel Aged Manhattan Cocktail (250ml.Jar)
Aged for 30 days.
Wild Turkey, Dolin sweet vermouth, Luxardo, Cherry Masala Chai Bitters,Sugar cube.
Red Sangria 250ml.
Strawberries, Vecchia Romagna, Mango Juice, Fresh lemon juice, Red Wine.
Red Sangria 500ml.
Strawberries, Vecchia Romagna, Mango Juice, Fresh Lemon Juice, Red wine.
2017 Negroamaro Maiana Pugia
Light aroma of peppery spice, violet & cranberry. Light tannins and ripe cherry .
Merlot Collevento
Excellent modern style Italian Merlot, light and fruity.
Chianti Casalbosco
A beautiful smooth wine with hints of cherries and plums.
Btl. Cab Sav Solid Ground
Classic California Cab.
Juicy, fruity, well balanced with smooth, long finish.
Enjoy with Rib-Eye
Btl. Valpolicella Grotta Ninfeo
A dynamic Valpolicella, enjoy with a Bolognese!
Btl. LU Sangiov/Merlot
Full bodied, Complex and Warm. Great with red beet risotto!
Btl. Pinot Nero Antonutti
Light and fruity, enjoy with any dish!
Appassionato
Ripasso style, medium plus body, juicy and herbaceous.
Btl. Primitivo Zolla
This classic Zinfandel is bold, intense, delicious!!!
Enjoy with our Ribeye or Lamb!
Btl. Valpolicella Cesari-Bosan
Bold, smooth but not heavy.
Red cherries on the nose, lingers on the palate with hints of vanilla.
Very smooth on the finish.
Btl. Brunello San Polo
Our finest Brunello!!!
Amazing medium plus bodied wine that is so incredibly balanced with aromas of cherries, blackberries, chocolate.
2016 Amarone Valpolicella Zardini. (375ml. Bottle)
Complex and Intense bouquet of black cherries, pepper, spices. Powerful taste, warm, very structured and persistent.
SERVED IN 375ml. BOTTLE
Vino Bianco (1liter)
A light bodied blend of Chardonnay & Garganega. Crisp, clean with pear and honey.
Sauvignon Blanc Santome
Intense bouquet, good acidity with clean finish.
Pinot Grigio Anticavigna
Refreshing, aromatic notes, dry.
Btl. Riesling Elevation
Notes of lemon, apple, peach.
Great acidity, balanced sweetness, velvety finish.
Best with seafood.
2018 Torre Giano Lungarotti
Delicate, long lasting, hints of white fruits & citrus notes. Fragrant & fresh.
Btl. Chardonnay Solid Ground
Classic California Chardonnay.
Medium oak, yellow apple and creamy honey.
Great with Roasted chicken and salmon.
Btl. Antonutti Pinot Grigio
A beautiful step up from our house Pinot.
The perfect balance between fruit (melon, pear, citrus) and smooth acidity.
Great with funghi pizza
Btl. Antonutti Sauvignon Blanc
Next level from our house one!
Features passion fruits, lime and herbal notes on the nose.
Best with Wild Boar Agnolotti.
Grilli Di Mare Fazio
Lightly sparkling, Complex, persistent, full, harmonious.
Ideal as aperitif, pasta, meat.
Rose Pinot Grigio
Ample lasting fruity bouquet. Dry, soft, well balanced. Crisp and refreshing.
Btl. Lambrusco Reggiano
Pretty aroma of crushed berries and rose petals follow through to a medium body, a soft and frothy palate and a clean finish. Dry aftertaste. Delicious!
Btl. Santome Prosecco
Prosecco DOC Treviso brut is produced from the remaining 24 hectares in Grave di Papadopoli, an island formed by the river Piave where an ideal soil enhances the main attributes of Prosecco: scent, freshness and balanced taste.
Btl. Rose Gran Cuvee
From Abruzzo, Italy.
Delicate, fresh, tonic, this sparkling wine made from Aglianico offers a supple mouth featuring flavours of strawberries, pomegranate and cherries.
6 Pack Moosehead (bottles) - Giftpack
Refreshing, light bodied golden made by Moosehead Brewery.
Free Pint Glass and Sunglasses on while they last.
GP8 Still Water
Proudly Canadian still water.
GP8 Sparkling Water.
Proudly Canadian sparkling water.
* Menu items and prices are subject to change without notice and are displayed for informational purposes only.
---
Contact
Capra's Kitchen
Phone :
(905) 916-1834
Email :
fabio@capraskitchen.com
1834 Lakeshore Rd. W.
Mississauga, ON
L5J 1J7
---
Read More